Our current projects
Korczowa logistics park
This project is located in Poland, near the Ukrainian border. It is an industrial site with a surface area of approximately 70ha suitable for diverse purposes. This project is being implemented in cooperation with our partners: BEM, NW Logistics and Inter City Cool Liners. Utilities have already been installed and the entrance to the park was completed in 2014. Since the end of 2017, the site with the transformers for electricity has also been fully operational.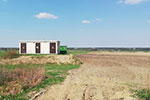 Dolina Sanu
This development site is situated in the South East (Podkarpacie) of Poland. Permits for the site have already been obtained for the development of diverse forms of recreation and services such as a hotel, holiday park, hunting lodge, clinic, etc.
This makes the site an interesting location for a range of functions. Situated on a hillside, it enjoys a breath-taking view of the surroundings. Designs have presently been drawn up for a hotel with wellness centre and a plastic surgery clinic. The total area is 4.5ha and can be expanded if needed.
Feel free to
contact us
for more information about this project.
Hepamos sp. z o.o
Drooghmans International NV is founder and currently sole shareholder of the company. Core activities consist of the construction of modular buildings and diverse containers for various purposes. The company is situated in the Krakow region but ships its products throughout Europe. More information can be found at:
www.hepamos.com.pl
BEM NV
Drooghmans International NV has been a shareholder of BEM NV for quite some time. The activities of BEM NV connect seamlessly with our core business. BEM invests in real estate projects in the central and the eastern parts of Poland, making use of its private equity fund.